Show Date: February 5th, 2020
Listen to podcast at:
Julian Solis, Restaurateur
Julian's Italian Pizzeria & Kitchen
San Antonio, Texas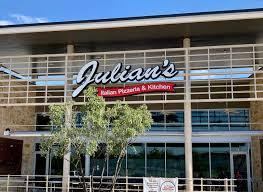 Julian's Italian Pizzeria & Kitchen in May of 2006. Since day one, Julian's has been making superb quality Italian food. The San Antonio community quickly found out that Julian's is the place to go for outstanding pizza and Italian specialties. Julian worked hard to grow the business from primarily a pizzeria to a restaurant that now serves a diverse Italian menu.
Julian's hard work and determination, along with his dedicated staff, helped him to open his second location in Alamo Heights in 2016, and his third location at Bulverde Rd & Loop 1604 in 2019. Julian believes that his delicious food is what the reputation of the restaurants are built on, but it's the little things they do at Julian's that keep customers coming back. Delicious homemade Italian food, outstanding customer service, and a family friendly atmosphere are the fundamentals that Julian's strives to provide to each and every customer. Julian's future plans are to continue to grow the business and open additional locations.
Julian has two children; his son, Cole, is 24 years old, a Business graduate of The University of the Incarnate Word, and currently finishing his final semester of his MBA program. His daughter, Hannah, is 21 years old, and a junior at The University of Arizona, double majoring in Business and Entrepreneurship. In his free time, Julian is an avid golfer, and he enjoys traveling with his wife and children.